Welcome!
You have found the web site of the Beyond Reality Costumers Guild!
We are a group costume enthusiasts who share our passion for costuming by teaching others our techniques, learning from others, and exhibiting our costumes. We welcome costumers of all types, including fantasy and science fiction costumers, historical costumers, SCA costumers, reenactors, dancers, theatrical costumers, professional costumers and hobbyists
---
Announcements
BeyondCon 2019 will be held February 8th-11oh at The Inn at Gig Harbor. For more information see the BeyondCon web site.
---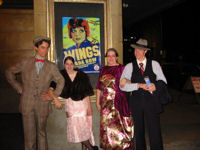 Wings Movie Outing
BRCG Members attend a showing of the 1926 movie Wings.
For more pictures of BRCG members and events see the photo gallery.